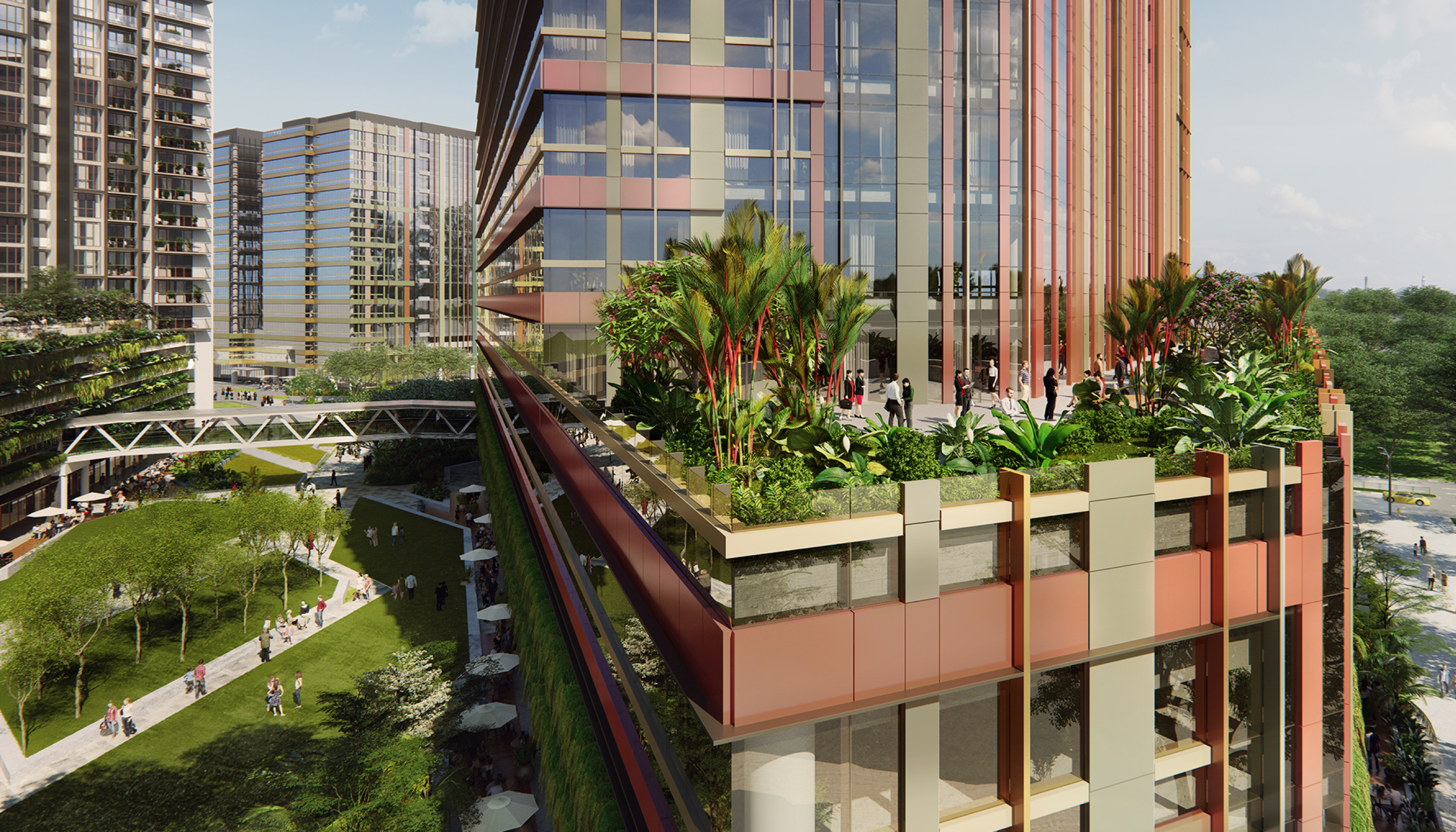 Boosting productivity with people-first stance | As featured in The Business Times
A re-thinking of the workplace as a green, vibrant hub for a community where diverse talents mesh with one another is gaining traction over grey, cubicled cages. – BY RICHARD PAINE
In tandem with cultural shifts and advances in modern technology, the design of city districts and buildings is evolving to factor in new lifestyle possibilities and preferences.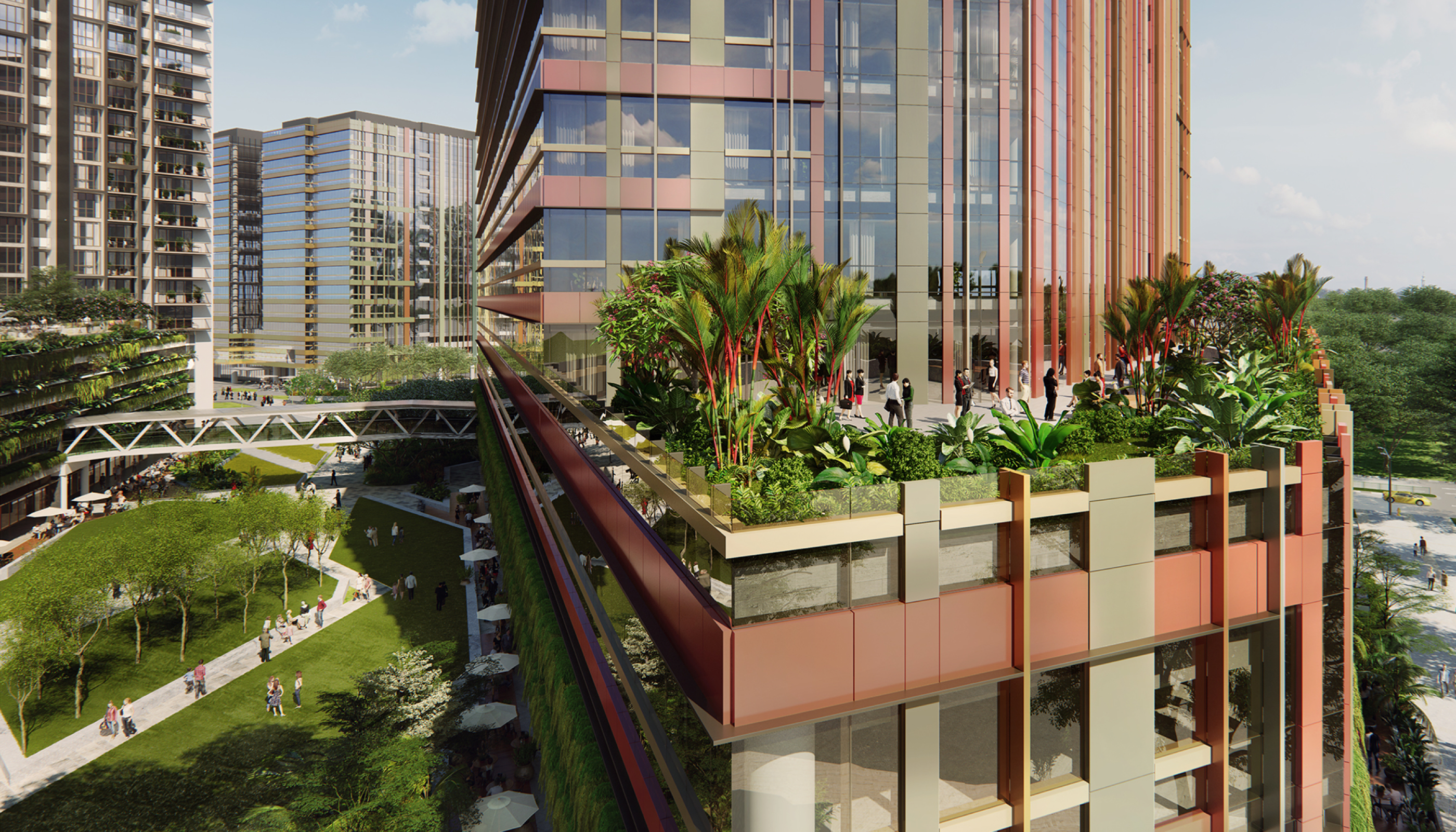 One of the most significant areas of change is in the workplace. No longer is it sufficient that a new building impresses; rather, the trend is moving towards a complete work ecosystem that is designed to seamlessly integrate work with other lifestyle activities, connecting people beyond their workspace at various cultural, recreational and nature spots.

Mobile technology is driving this more fluid approach to the physical workspace, allowing ideas to move between desks and boardrooms to terraces, cafes, parks and restaurants. By tethering ourselves to work but not the workplace, we have accelerated levels of productivity.

With the adoption of an informal and collaborative ethos by the next-generation workforce, the line between work and community continues to blur. The cultural shift in the work environment from hierarchies to communities promoting innovation and productivity supports the demand for progressive real estate solutions and mixed-use environments.

However, there is a limit to what a change in hardware – from eliminating cubicles and corner offices to adopting open-plan, hot desking formats – can do. Many companies fall into the trap of rehashing what is trending – rows and rows of hot-desks with a few meeting rooms scattered throughout – instead of adopting a people-first approach to take full advantage of the modern open-plan floor plates available to create a conducive, collaborative and energised work environment.

The ability to create a community, rather than just filling up a building with people, will be the true strategic competency valued in the future. Successful place-making is what ultimately enhances user experience and an important part to helping companies attract and retain talent, especially with the incoming cohort of millennials.

By 2020, 60 per cent of the world's millennials will reside in Asia and more than 45 per cent of Asia's population will be from the millennial generation. The most essential component of a progressive workplace for this incoming cohort is that of choice – spaces that facilitate both concentration, cooperation and other activities. A holistic, not a homogenous, environment, with quality retail, a wide range of dining options, parks and wellness facilities and infrastructure, will form the basis of the people-first workplaces of the future.

People are businesses' most valuable assets. Retaining a healthy and happy workforce is also a shared goal of urban communities and business organisations.

With around 90 per cent of a business's operating costs tied to staff-related expenses, a modest improvement in employees' physical and mental well-being can have a significant financial implication for employers when there is reduced absenteeism, staff turnover and medical or insurance claims.

People-first considerations, such as enhanced air filtration, abundant natural lighting, greenery and end-of-trip facilities for active commutes to work, are essential building blocks for a progressive workplace designed around enhancing employees' physical and mental well-being. Recent research data has shown that improved views, lighting and daylighting can increase productivity by up to 5.5 per cent, and improved air quality can help to reduce sick leave by up to 35 per cent.

The health and wellness design approach is also why workplaces are transitioning from grey, concrete jungles to green and biophilic environments. It has been demonstrated that a 40-second micro-break overlooking a green roof can result in higher concentration levels compared with views of a concrete roof , and developers are leveraging biophilic designs, where nature is integrated into places and buildings, to unlock the opportunities available to enhance physical and mental well-being.

The industry is taking note. For example, the WELL Building Standard, the world's first building standard focused exclusively on the health and wellness of people in buildings, employs a performance and evidence-based system to provide investors and tenants with measurable benefits addressing well-being and productivity of occupants.

Closer to home, the Building and Construction Authority in Singapore's latest Green Mark certification takes into consideration occupant health and well-being with enhanced criteria on indoor air quality, lighting and acoustics, beyond energy savings and ecological assessments.

Improving the physical and mental well-being of employees is naturally correlated to performance and productivity, and results in tangible benefits to a company's bottom line.

Progressive employers will also have to rethink workplace design through the lens of their employees. To create a conducive and collaborative work environment, the concept of agile working is becoming the new norm. The progressive workplace has both open spaces for collaboration and isolated nooks for focus work, providing the modern workforce with the option to select the environment in which to immerse themselves based on the task at hand instead of staying put at a fixed desk.

Agile working also means employees are free to take work outdoors, choosing from a variety of locations where employees can work from and connect with people at various cultural, recreational and nature spots beyond their workspace. Employers will have to rethink workplace design to create a bespoke environment that not only maximises performance and productivity but also meets the needs of the business and, most importantly, the people behind the business.

However, designs have to be aligned with how the business runs to secure the vital support from leadership as well. This ensures that business value continues to be created with the best solutions that bridge concerns from both parties.

Done right, agile, people-first workplaces will serve as a morale booster to employees. Apart from enhancing employees' sense of well-being, these workplaces instil a sense of community, improving morale and creating a happier, healthier and ultimately more productive workforce.

Ultimately, the quest for hyper connectivity in our workplaces of the future will ideally be a fusion of virtual and physical environmental assets to support activity-based choices, user-shaped spaces and a balance between creation and collaboration to meet the needs of our workforce at a sustainable level.

Providing people with real choice, control and ability to determine how they can get the job done in the best possible way is a good starting point for employers to begin supporting the mobile and agile work culture of the future.

This article was first published in The Business Times on Thursday, May 11, 2017.