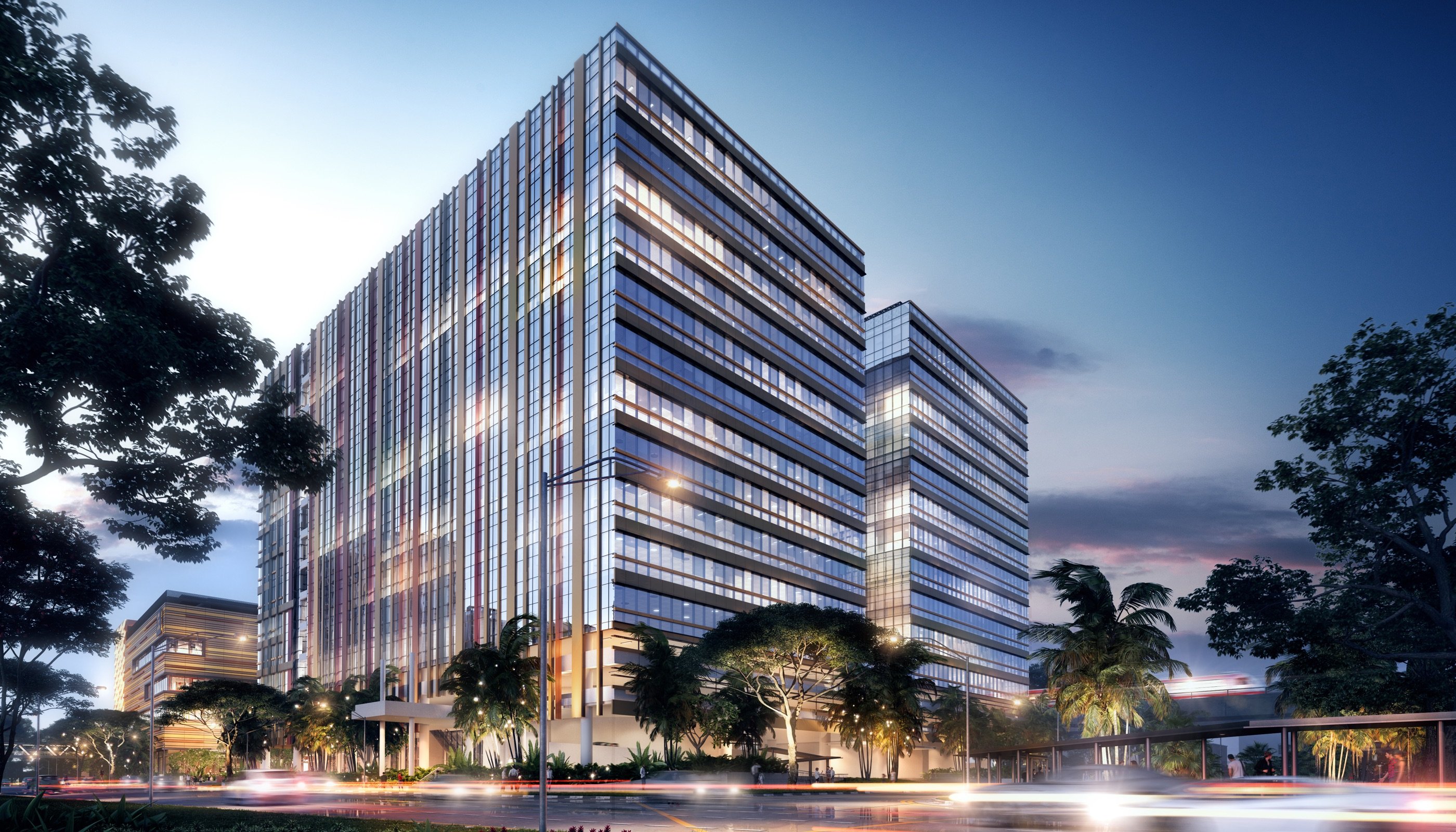 The new-generation workplace for international businesses | As featured in The Edge Singapore
Lendlease's new Grade-A office towers at Paya Lebar Quarter enhance the productivity of its occupants with wellness features within a complete work ecosystem
In our modern-day internet society, boundaries between public and private space, work and play, and work and life have broken down. The workplace has become less about just property and more about creating a sustainable ecosystem for work to which people are automatically drawn.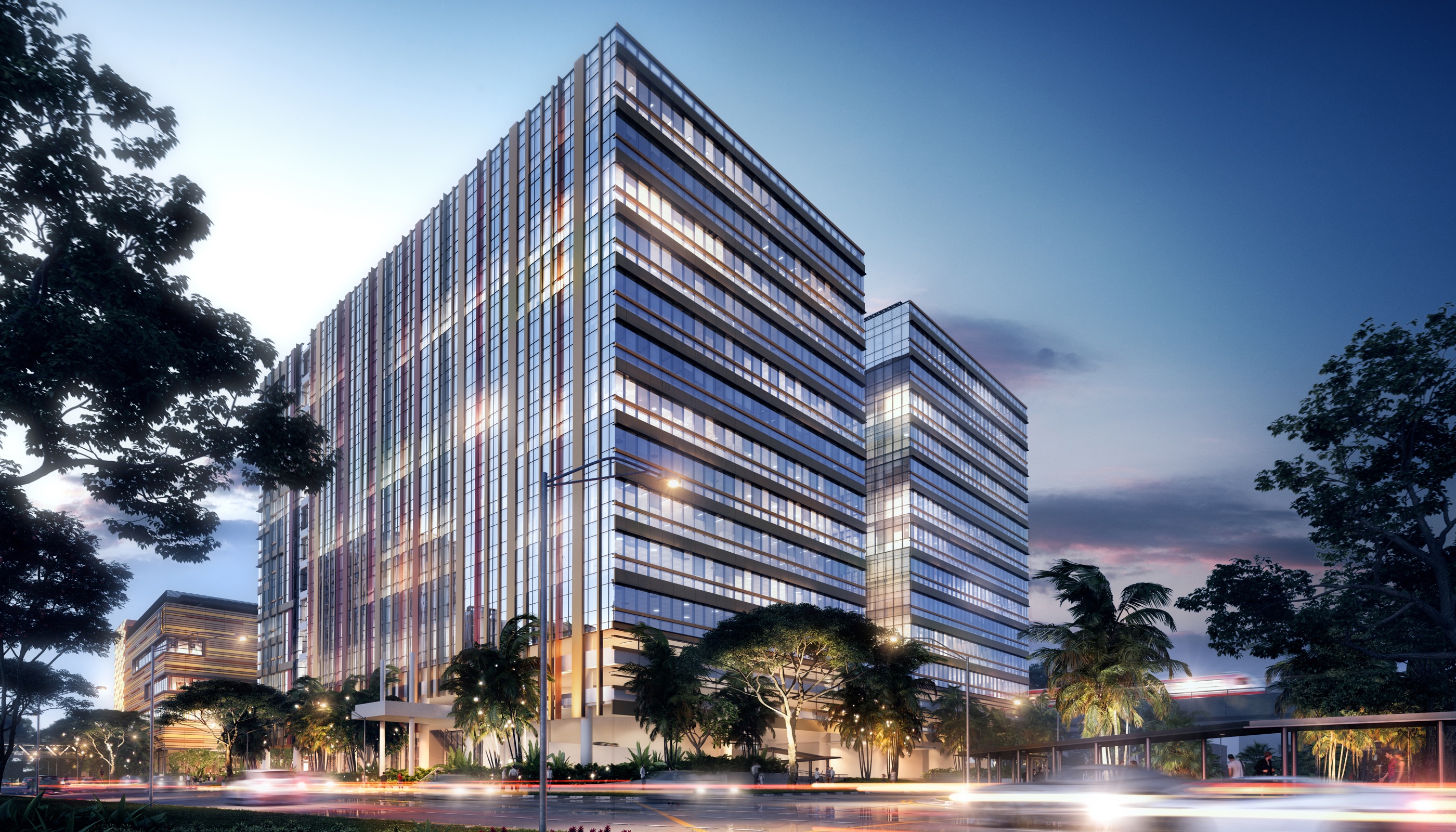 Employee salaries and benefits account for 90% of typical business operating expenses*, far ahead of office rental (9%) and energy costs (1%). Therefore, a workplace that enhances productivity can leverage a huge return on the investment.
In Singapore, Lendlease's $3.2 billion Paya Lebar Quarter regeneration scheme offers a complete work ecosystem that enables progressive companies to enhance productivity by promoting knowledge sharing, innovation and collaboration.
"This ecosystem will help connect people beyond their workspace and also at various cultural, recreational and nature spots," says Richard Paine, managing director of Paya Lebar Quarter. "Technology is driving a more fluid approach to the physical workspace. We are creating a place where people can take their work from their desks to the boardroom or other parts of the precinct, such as outdoor terraces, cafes, parks and restaurants."
An ecosystem that promotes health and wellness
More companies now realise that staff well-being is an integral part of their business strategy.

"Businesses are starting to realise that the quality of the workspace is more important than its cost," says Paine. "An uplifting environment in the workplace has a direct impact on staff well-being and productivity. It can be a green area, a social space to meet others, or a quiet place for contemplation or relaxation."

The three Grade-A office towers at Paya Lebar Quarter have close to one million sq ft of space, linked to a standalone 340,000 sq ft shopping mall and three residential towers with 429 units. About 100,000 sq ft of the site is dedicated to lush green space. There are also six-metre-wide cycling and walking paths that are linked to five park connectors around Singapore.

Beyond bicycle paths, Paya Lebar Quarter will also have end-of-trip facilities such as secure bicycle storage areas as well as shower facilities and changing rooms. "We want to create fitness and wellness facilities to make staying healthy easier," says Paine. "Our vision is to provide an environment where people can leave work feeling better than when they arrived."

Paya Lebar Quarter will provide a parkland environment and cool, shaded areas to encourage more people to incorporate walking as part of their lifestyle. The public plaza at Paya Lebar Quarter is also WiFi-connected.
Lendlease sees a great workplace as a strategic enabler
In November 2015, Lendlease formed a global alliance with US-based Delos, the pioneer of Wellness Real Estate, to jointly champion the internationalisation and implementation of the well-being agenda for buildings and communities. The alliance is also working to further advance WELL Core & Shell Certification as a pathway to WELL-ready workplaces for tenants.

The WELL Building Standard measures the health and well-being of people in buildings based on seven concepts relevant to occupant health in the built environment, such as air quality, thermal comfort, natural lighting and green coverage or biophilia. WELL is administered by the International WELL Building Institute, a public benefit corporation, and third-party certified by Green Business Certification Inc.

Paya Lebar Quarter is the first development to register for WELL Core and Shell Certification in Singapore. In Australia, Lendlease's International Towers Sydney at Barangaroo is the country's first WELL-certified office project from inception. Lendlease's headquarters in Tower Three of International Towers Sydney has obtained a Platinum rating, the highest level in WELL certification.
What it means to work in a WELL-certified building
A lot of things go into the design of a WELL-certified office building that people may not realise until they move in, such as good lighting and the benefits of daylight. Experts believe that productivity level improves as a result of proximity to windows with views out to nature, according to the Health, Wellbeing & Productivity in Offices study by the World Green Building Council.

"It's very calming to look out to greenery, and it will make a meaningful difference to people," says Paine, "At Paya Lebar Quarter, you will enjoy a view of greenery whether you are standing at the lobby or near one of the windows of the office towers. This comes from Paya Lebar Quarter having a green plot ratio of more than six times, that is, the area covered by foliage is six times that of the land area."

Indoor air quality is also something that people in Singapore take for granted, until they are affected by the periodic severe haze in the region. Research has shown that productivity improves by 8% to 11% as a result of better air quality. To ensure that its office buildings at Paya Lebar Quarter have good air quality, MERV 14 filters will be used all year round as they provide good air filtration to reduce small particulate matters, bacteria and droplet nuclei, creating a healthier environment, especially during hazy conditions.
Hunt for quality space
The desire of large-office occupiers to locate work closer to home has also meant a search for alternative business districts with quality and efficient buildings and easy access to public transport. This is where Paya Lebar Quarter ticks all the boxes.

In terms of connectivity, the three office towers at Paya Lebar Quarter are linked by covered bridges to a shopping mall and the Paya Lebar MRT interchange station. They are also a 10-minute train ride to Raffles Place and Marina Bay. With over 20 bus routes serving the area, getting to Paya Lebar Quarter is a breeze. For those who drive, it takes 10 to 15 minutes to get to the CBD and Marina Bay, as well as Changi International Airport.

In Asia-Pacific, the main factors driving location and building selection are real estate cost, accessibility, talent availability and the size of floor plates. Decisions are also influenced by space efficiency initiatives to futureproof work environments, according to the CBRE Asia Pacific Occupier Survey 2017. The workspaces at Paya Lebar Quarter have been designed to meet those needs with large, efficient floor plates ranging from 24,000 to 32,000 sq ft, and an ambience that has been calibrated to improve staff wellbeing and productivity, as well as to help companies attract and retain talent.
Improving space efficiency, providing greater flexibility
JLL research shows that 30% of corporate portfolios will comprise flexible space, including co-working, incubator or accelerator space by 2030.

Lendlease intends to incorporate co-working space within Paya Lebar Quarter. In its bid to understand the co-working model better, Lendlease's regional headquarters in Singapore with a staff of 100 moved to a co-working space that opened at Downtown Gallery last month. This will give Lendlease staff first-hand experience of what it is like to work in a co-working environment.

The company also has a strategic workplace enabler business unit that completes a total workplace solution to tenants. Lendlease Strategic Workplace offers health and well-being design recommendations and delivers full space budgets and early design materials to inform delivery planning.

"Lendlease has been at the forefront of the movement towards improving people's wellbeing in the workplace. The Lendlease Strategic Workplace user experience team designed our global headquarters in International Towers Sydney, which now ranks among the top 2% of all workplaces surveyed worldwide, according to the Leesman Index, which measures the performance of office space." says Paine

Paya Lebar Quarter is expected to be substantially completed by end-2018. It will showcase Singapore's future workplace — one that is well located and connected as it is linked directly to a transport node, and has office towers that are focused on promoting health and well-being as well as the productivity of its occupants.


*'Building the Business Case: Health, Wellbeing and Productivity in Green Offices', a 2016 study by the World Green Building Council